The Brief History of a Club for Former Athletes
In 2004, Agonis President Jim Newby suggested adding documentation as to the History of the Agonis Club. This task was undertaken by Dave Fitzsimmons and published in 2005, in it's current form and in 2019 the history was reviewed and revised by Mark Allan.
The Agonis Club thanks both members for their contributions to this history.
COMPILED BY
DAVID FITZSIMMONS
NOVEMBER – 2005
REVISED
MARK ALLAN
NOVEMBER – 2019
In 1932, a small group of former athletes would occasionally get together for lunch, usually at the Engineer's Club on Monument Avenue in Dayton, to mostly do the same things Agonis Club members do today.  They needled one another and swapped stories laced with imagination and a politically incorrect form of humor.  But they often left wondering when and where their next luncheon meeting would be held.  But within a year, those founders of the Agonis Club agreed to meet at the same time and place each week.  Thus the first goal was met: Agonians knew where to eat lunch.  And by no mere coincidence, that same year, whiskey and beer resumed legal distribution in the United States.
These pioneers included F.B. McNabb, Carl Storck, Ward Cromer, Hack Abbott, Jack Moore and Jack Brown.  A half century later, Jack Brown recalled, "Originally, to be a member of Agonis, one had to be an athletic letter winner in college and know someone in the club.  Eventually ten of us met at the old Gibbons Hotel and each was asked to bring a friend.  I brought a bicycle racer, Henry Malloy, and soon a cousin of mine, Herb Eikenbary.  After three to four meetings, we had 25 members and we held to that number for about 20 years." 1
Herb Eikenbary deserves special mention because his personality colored the first 40 years of Agonis Club history.  Law historian David Greer calls Eikenbary the most notable figure in the history of the Dayton Bar Association, and he was also one of only 20 students to graduate in the University of Dayton's first law school class in 1926.  His yearbook described him as having "an inexhaustible supply of wit and humor."
Greer's tribute to Eikenbary calls this influential club member "The Knight of the Broken Mold" and "a Churchillesque figure who was more a great person than a great lawyer."  Herb treasured a loving cup given to him by the grateful clients of a local bawdy house which he represented successfully in court.  When that establishment lost its proprietress/madam a few years later, Mr. Eikenbary's memorial address noted that "Thousands mourned her loss, but few attended her funeral." 2
The photograph below was taken in the late 1940's at a dinner meeting honoring Arch Ward, a promoter and one-time sports editor of the Chicago Tribune.  He was also a founder of the Major League Baseball All-Star Game in 1933, the Chicago College All-Star Football Game in 1934, and the All America Conference in 1946.  In the photo below, Counselor Eikenbary is shown in bow tie and top hat, resting upon his knee in the front row.  Huston Brown, Jack's brother, is the guitar player alongside Eikenbary, and the two were major contributors to a club tradition of producing theatrical follies as an appetizer for the meetings and speaker introductions.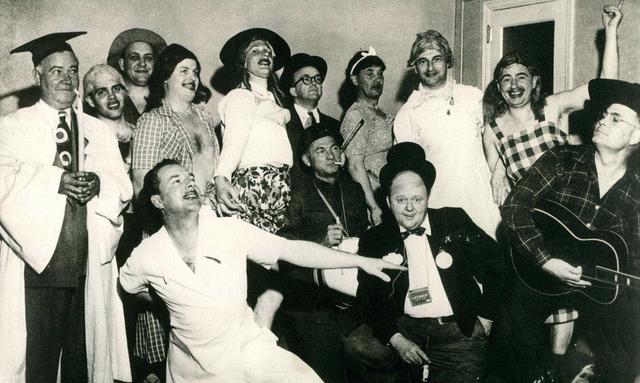 Front row – Lou Tschudi, Homer Snyder (Homebrew), Herb Eikenbary, Huston Brown.
Back row – Chet Eichenlaub, Dr. Bob Gowdy, Lon Mahrt, Whitey Winger, Charlie Evans, Gale Murphy,
Lonnie Allford, Charlie Stonebarger, Vern Tumbusch.
Follies have always played an important role in Agonis meetings but never more so than those early years, when laughs were scarce and breadlines plentiful.  Throughout the Great Depression, those 25 or so members provided not only laughs but local and even national contributions outside the club.  The first Agonis President in 1933 was Carl Storck, who helped found the Dayton Triangles and then served as a pioneer board member of the NFL as well.   Storck, Hack Abbott and Dave Reese were key figures on the 1920 Dayton Triangles and were on our club roster for many early years.  Storck served as Commissioner of the National Football League from 1939 to 1941.  Reese was a Dayton dentist, a referee for top flight college football games, and the first Commissioner of the Mid-American Conference.  Jack Brown served the University of Dayton as a part-time ticket manager while running a Dayton bakery full-time. 3
The Agonis Club moved through its first decade or so with a membership consisting of a relatively small group.  Lunch cost two bits and dollars were in short supply.  So were men able to share an interest in sport because by 1940, the military draft had begun.  Some self-deprecating humor remained here at home however, because the club name was becoming entrenched in the belief that 'Agonis' is related to the agony that torn cartilage and worn tendons impose on older limbs.  Agony is after all, something that an Adonis does not experience.  There is another explanation for the club name that is whispered only in Oakwood's dark alleys.  The ancient Greeks loved athletic competition of all kinds, and their term for all such was 'agones'.  A very small school of thought believes that a club founder understood the Greek language but was not a skillful speller. 4
The post war Agonis Club featured Uncles Sam's troops coming home to a world made much safer for democracy.  And some of 'America's Greatest Generation' is still among our active membership:  chirping, chiding Ohio State followers, and lighting candles for Tom Blackburn.
And the Agonis Follies flourished.  A favorite routine was to have three club members dress in the clothing they wore in an earlier time when their workouts were more strenuous.  With shirt fronts bulging, they would lampoon the "spirit of '76" with Huston Brown as flag-bearer in track tights which by 1948 were much too tight.  Someone, probably Si Burick, sent a photograph of these three Agonians to Si's Stivers High School classmate, Milton Caniff, America's most celebrated and syndicated newspaper cartoonist.  He sketched the work you see below and sent it back to his grateful friends in Dayton.  This artwork remains our club logo and only collateral asset. 5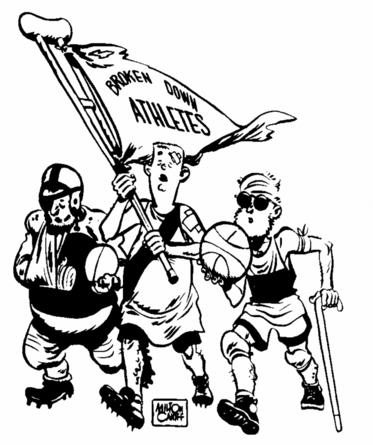 Soon, a constitution, by-laws and membership rosters were published.  By the late 40's, Agonis boasted nearly 100 members, and that number has continued to grow to today's range of between 175 to 200 total members.  Our price for lunch has mushroomed from two bits but has not grown as fast as the number of sports notables who have been Agonis speakers.
First, membership.  Our rosters have and do include NFL players, referees, and a coach in Sid Gilman.  We've had Big Ten, Mid Am and even Ivy League players.  The Cincinnati Reds have contributed baseballers, and the old NBA Royals a basketballer or two.  But the winning edge in membership talent and interest must go to the University of Dayton basketball program.  UD's teams of the early fifties provided the club with dues payers, office holders, and speakers.  From that era, Agonis owes much to Blackburn, Bockhorn, Boyle, Donoher, Frericks, Meineke and Norris.  And the good times that first rolled from Madison Square Garden and the Kentucky Invitational have carried forth to NCAA tournaments and to the renovated UD Arena. 6
Next, leadership.  Much of the vitality of the Agonis Club can be traced to the practice of past presidents remaining in an active leadership role beyond their one-year term as president mandated by the club constitution.  All former Agonis presidents meet as a group at least three times a year to offer advice to the current officers, review the applications of new members, and receive current statements of condition.  By the time their elected duties are discharged, these veterans have seen more needles inserted than a tattoo artist in Southern California.  So they expect current office holders to be able to take it.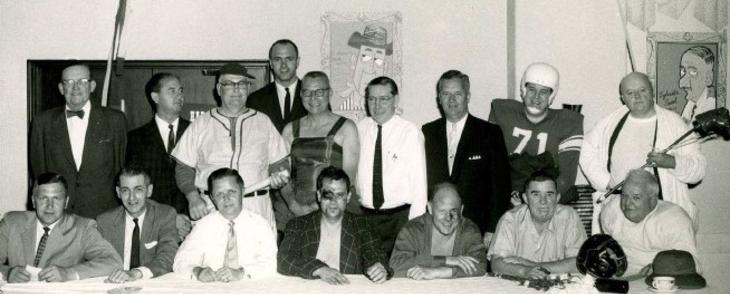 May, 1960 – Hotel Gibbons – Agonis Past Presidents – Year in Parenthesis
Back – Harry Cutler ('39), Harry Weprin ('51), Huston Brown ('45), Don Meineke ('66), Larry McAfee ('53),  Gene Heywood ('44), Harold Dodson ('52), Frank Maloney ('59) and Herb Eikenbarry ('54) Front – Beno Keiter ('60), Neal Zimmers ('57), Chick August ('46), Stan Mouse ('58), Bill Hoyne ('48), Dave Hall ('47), and Jack Helmerich ('43)
Agonis luncheon meetings have been held in many locations over the years. McShane's Bar and Grill hosted meetings in the late 40's. The Gibbons (a.k.a. The Miami) followed in the 50's, and Suttmiller's then dominated for decades, followed by the Holiday Inn, and then the UD Arena Lounge. Most recently, the Presidential Banquet Center in Kettering has hosted Agonis.
If, as noted above, club officers have to develop thick hides, the average guest speaker needs combat-strength armor plate. Agonis lore delights in the memory of AB. (Happy) Chandler running grouchily from the rostrum. Then there was Dave Cowens who gave us a moon shot. But the top shelf still goes to guests like Bob Huggins, Pete Rose and Bob Knight, who took full advantage of the fact that they spoke last. When it came to fun, and a surprising side revealed, most old-time Agonians list Woody Hayes first and Bill Veeck second. But all odds-makers are asked for a dark horse and that would probably be Herman Hickman, All-American lineman from Tennessee in the 1920s and later a coach at West Point and Yale. He is pictured at an Agonis meeting in the early 1950's with, (L to R) Huston Brown, Rollie Bevan (conditioning coach for Red Blaik at Army), Stu Holcomb, (Purdue AD), Dave Reese and Joe Gavin, (UD Football).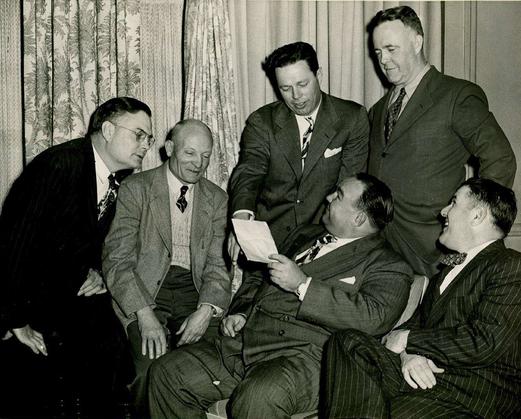 The club's welcome has been extended to the gentler gender on many occasions, most notably in 1985 when Marge Schott was newly-ordained as owner of the Cincinnati Reds.  She spoke to an estimated luncheon audience of 250 at Suttmiller's.  Marge brought her Saint Bernard 'Schottzie' with her, and the chances of a lady and a dog ever being invited to eat from separate plates at another Agonis lunch seem remote. 8
An additional sampling of speakers who have also been a joy includes trackmen Edwin C. Moses, Jesse Owens and Bob Richards; Fred Taylor, Ray Meyer and Red Auerbach from basketball; footballers Paul Brown, Chuck Noll and Art Donovan, and baseball's Frank Robinson, Frank Howard and Tommy Lasorda.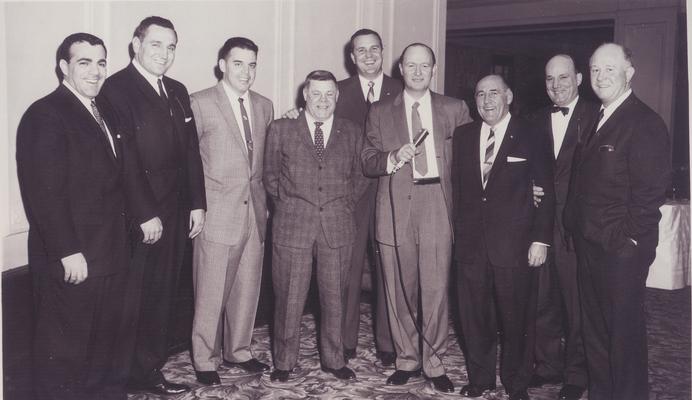 A night meeting to remember. Miami University A. D. John Brickels Testimonial February 22nd 1960 Left to Right Ara Parsegian, Lou Groza, Otto Graham, Weeb Ewbank featured speaker, Cy Laughter, Si Burick, Brickels, Eddie Finnegan, and Bill Edwards at the Miami Hotel Ballroom in Dayton.
Dayton's first two Hall of Fame sportswriters, Si Burick and Ritter Collett, were active in the club for many decades.  And Hal McCoy, our latest Cooperstown scribe, has helped at dozens of recent club gatherings.  It should be noted, however, that an Agonis guest is not a newsman's interview opportunity.  Any speaker statement is a confidential communication and is strictly off the record.
Beginning in 1954, the Agonis Club has put raucous fun aside for one evening a year and turned, fighting to hold our balance, toward the respectable.  The club's annual awards ceremony honors six notable achievers from the Dayton athletic scene.
One local high school athlete receives an award commemorating Beno Keiter/Russ Guerra's memories.  Both were local law enforcement officials who served Agonis as club presidents.
A UD athlete receives an award named for two deceased members who gave much to UD athletics, Joe Quinn and Joe Gavin.
The David Reese memorial award goes to a deserving Wright State athlete each year.
The Bill Gunlock award goes each year to the outstanding Miami University athlete.
Dave Hall, a former Mayor of Dayton, is remembered when we honor an outstanding Dayton athlete performing at an out of town school.
Our final honoree is a local coach receiving an award named for legendary UD coaches Don Donoher and Mike Kelly.
Perhaps the most significant part of this spring evening is the way it reminds today's membership and their guests of those who came before them.  Not just their playing performance but reminders of where the fun was as well Keiter, Quinn, Guerra, Hall and Reese played their share of games, but they are much more fondly remembered for their good time companionship after the games were over.
In 1956 President Chuck Whalen talks with Adolph Rupp, Cy Laughter, and Walter Reese club secretary in 1949 at the Gibbons Hotel.
Honorary Agonis club member Adolph Rupp still holds the record for most keynote speaker appearances at our Awards banquet.  The University of Kentucky basketball legend appeared three times and took 1966 high school award winner Mike Pratt back with him to Lexington.
President Fred Hess greets Frank Robinson before a night meeting at Suttmiller's restaurant in 1967. Frank was the National League's MVP in 1961 and the American League's MVP in 1967
So we have used those members and their history to put these many years in as clear a perspective as we can.  The Agonis Club of Dayton has a love of sports, and only that, as the common denominator of membership.  There is no fashion or philosophy with which a member must be comfortable.  Old publications mention Agonis clubs in several eastern cities as well as Columbus in Ohio.  Only Columbus Agonis survives and their interest is exclusively Buckeye football.  We have grown and achieved a non-profit solvency that makes us unusual and not very trendy.   We are proud that we all agree on the good sense involved in having a place to eat a weekly lunch and knowing why you are going there.
If you want some high moral purpose beyond that, our history does not offer you much hope.  But we do have a time-honored tradition begun a half century ago by a licensed physician and surgeon, M. Tischer Hoerner, one which has helped many Agonians put the cold cares of winter behind.  Doctor Hoerner would mount our rostrum on the first meeting in May and intone:
"Tis the first of May.  O' wonderful day
The flowers of spring bloom forth to say
Tis May at last…hooray, hooray,
Outdoor f****** begins today!"
Footnotes to Dayton Agonis Club History
Much of this early Agonis history was drawn from a Marc Katz article which appeared in the Dayton Journal Herald on October 24, 1983, "Get Out the Needle, at Agonis Club meetings there are no holds barred."
The Herb Eikenbary material appeared in David C. Greer's fine history of the Dayton Bar Association titled, "The Sluff of History's Boot Soles," Orange Free Press, pgs. 314-321.
Tony Furst recollections.
N.Y. Times, OP-ED, August 9, 2004. "When the Games Were Everything" by Thomas Cahill.
Letter from Huston Brown to Tom Hamlin dated May 7, 1992. Among Caniff's creations were Terry and the Pirates and Steve Canyon
Membership rosters supplied by Fred Hess as well as references to Agonis in "Sports in Dayton" by Ritter Collett, Landfall Press, pg. 364.
First three photographs courtesy of Jimm Horvath. Last three courtesy of Fred Hess.
Recollections of Bill Highfill, Agonis President, 1985.
Acknowledgements
Some delightful story tellers applied their talent to this document and whenever two agreed their tales are treated as fact.  That policy made this history much more concise than would otherwise have been the case.  Particular contributions of time and the loan of useful material were made by:
Barry Baumgardner, Joe Cogliano, Fred Engler, Tony Furst, Michael Haley Jr., Tom Hamlin, Fred Hess, Jimm Horvath, Joel Kelsey, Ron Lauterbach, Carl McGowan, Jim Newby, Max Peterson, Ben Sproat, Nick Ungard
Many thanks to these gentlemen, and those who assisted them as well.
Also special thanks to Bob Penno for his typing services.
Dave Fitzsimmons
2005
------
Revised
Mark Allan – 2019